It's clear from the video that Mookie Betts was in a position to make the catch, and that the fan obstructed his glove as he was reaching for the ball. The only issue is whether the fan reached into the field of play to interfere, or if Betts reached beyond the wall. He is allowed to reach into the stands, but does so at his own risk, and it would not be considered fan interference. Take another look at those fans… they are up against the wall leaning and reaching forward. Betts is short of the wall, reaching out and up. Here's the replay to watch:
Look at that slow motion… Betts travels quite a way in the air before striking the fence after the fan makes contact with his glove. It's still pretty hard to tell for sure, since the fence camera angle was obstructed. A commenter on Deadspin took a crack at breaking it down a little more. TVs_Frank writes:
"The key to tell where the fan's hands are is that crease in the orange padding. Right before it is where the collision happens, although not exactly since it's not a straight ahead shot, but it's only off by a bit.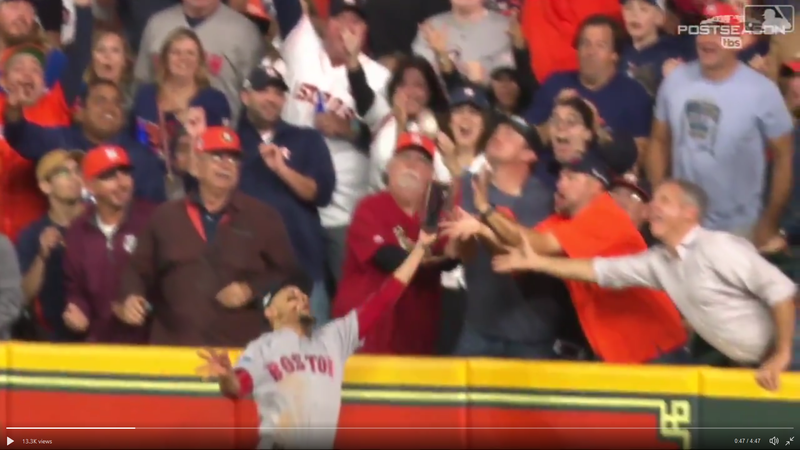 If we go to roughly the same frame in the other angle we can use that crease to tell roughly where the fan's hands are coming from and put a line there to represent the wall.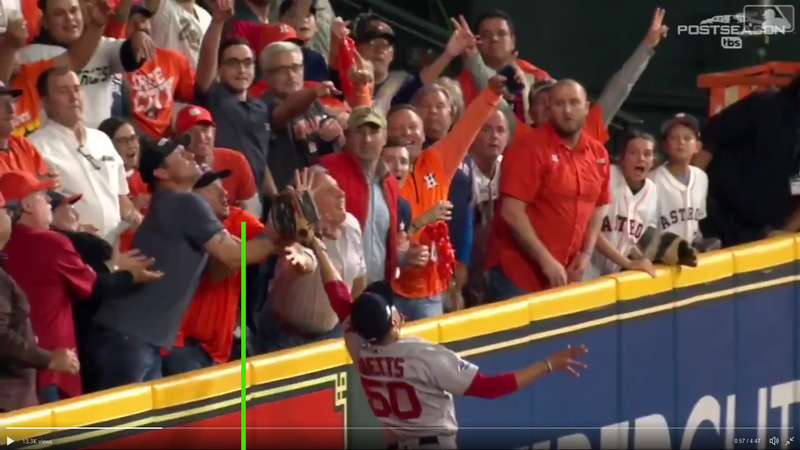 Not a foolproof method, but the fan's hands are probably at least a couple inches over the wall."
He makes a good point. Now go back again and watch the slow motion replay, to see where Betts is well off the wall when the fan hits his glove. We don't have a definitive camera angle, but the person in the best position was actually Joe West, who made the call. He was umpire stationed down the right field line, and had a good look at the play from that vantage point. For what it's worth, he says he clearly saw the fan's arm over the playing field.
Now go back and watch the game-saving catch by Andrew Benintendi over and over again… wow!